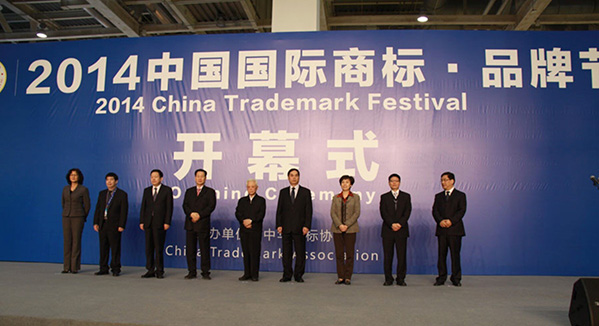 From November 8-10, the 6th China Trademark Festival was successfully held in Suzhou International Expo Center. China Trademark Festival is a feast of brands that is of the highest standard and of the widest influence in the trademark community in China. To help the service enterprises at China Trademark Festival better create internationally renowned brands, promote international exchange and cooperation and build up a communication platform between the government and enterprises, approved by State Administration of Industry and Commerce, since 2013, "China Trademark Festival" has been changed to "China International Trademark•Brand Festival," which is to be held on a yearly basis instead of every other year in the past. As an exhibitor, ".SHANGBIAO" (dot trademark in Chinese) Domain Registry participated in this great gathering.
This time, the trademark festival focused on the publicity of new Trademark Law to carry out activities. With "Promoting the Construction of National Brands, Pushing Forward International Exchange of Trademarks" as its theme, the festival carried out such diverse and colorful activities as 2014 China Trademark Annual Meeting, China Brand Expo, 2014 China Trademark Golden Award, honoring activities for 20th Anniversary of China Trademark Association, 2014 China Trademark Association Best Agency Member Selection, China Trademark Association Member Company Trademark Culture Exhibition and so on, exhibited the result of trademark protection, exchanged the experience of implementing trademark strategies, disseminated annual political and business information in the field of trademark that was the most authoritative, forward-looking and practical, and built up a very good platform for global interaction. The festival also attracted the participation of domestic and overseas famous brands, covering such industries as manufacturing, clothing, food and intellectual property services and so on. The participating enterprises included Mercedes-Benz, Wanglaoji, BOSIDENG and so on.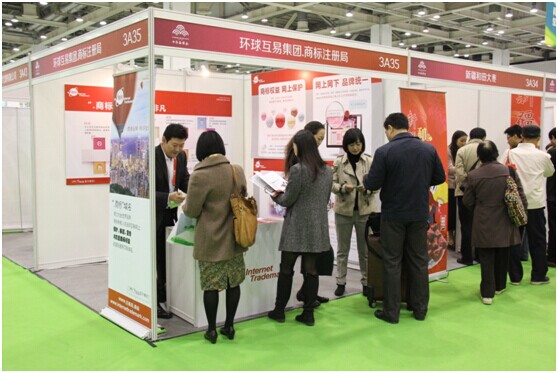 ".SHANGBIAO" functions as the only Chinese domain name of natural intellectual property attribute in the field of Internet new top level domain names. This gathering attracted the attention of many famous brands, intellectual property institutions and law firms and so on. They all asked about the use and value of ".SHANGBIAO" so Mr. Wu Yangyi, Operating President of China Region of ".SHANGBIAO" Domain Registry explained in detail the value of ".SHANGBIAO" domain name and its market prospect to ensure that the brands of enterprises could be solidly protected and publicized on the Internet and that the reliability, accreditation and authoritativeness of ".SHANGBIAO" can protect enterprise brands against the harm caused by fake websites for a long period of time. Surely, strict rules must be implemented for the application criteria. For instance, only trademark holders can register, which greatly regulates the market of domain names and prevents non-trademark holders from abusive registration. This strict registration rule works to create a credible domain name that shows the value of the brand, and further protect the brands of the enterprises so as to assure them of publicizing their brands. The purpose of ".SHANGBIAO" is to provide enterprise brands with the most secure protection on the Internet and assure enterprises of promoting their brands so as to help their brand values last and add value.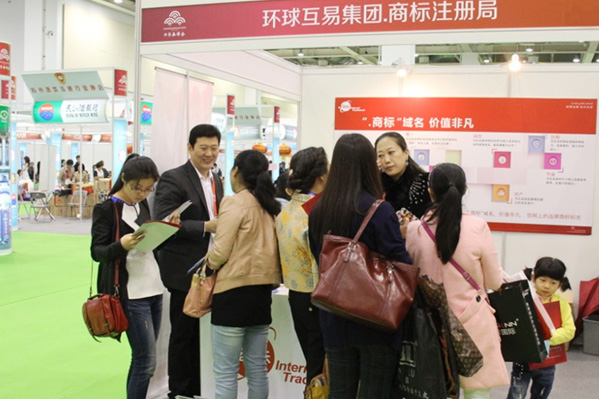 During the three-day trademark festival, countless enterprises, organizations and individuals came to the ".SHANGBIAO" booth for consultation, including delegations headed by persons in charge of various provincial trademark offices, business representatives, IP providers, law firms and so on. They all showed great interest in ".SHANGBIAO" as a new top level domain, and all expressed that such was a very good method of promoting an enterprise, which could truly help an enterprise create its own platform, without use of a search engine to open a company website any longer, simple, convenient, genuine and believable. Some trademark holders even expressed on the site that they would like to register a ".SHANGBIAO" since it was a very scarce address resource. They would like to protect their brands as quickly as possible, so as to prevent trademarks with the same name from preemptive registration.
Via this trademark festival and targeted publicity, ".SHANGBIAO" Domain Registry helped more enterprises and IP providers and law firms that served enterprises to realize the value of ".SHANGBIAO" Chinese domain name. With continuous development of the Internet, as part of corporate development, electronic commercialization is a very important step for enterprises to achieve, and it is also a very important platform for them to build. ".SHANGBIAO" is a domain name, but it can bring gigantic protective value to benefit enterprises for a very long time.