China Trademark Festival Event Website Enables the ".SHANGBIAO" Domain Name
Source: RegistryDate: 2016-04-06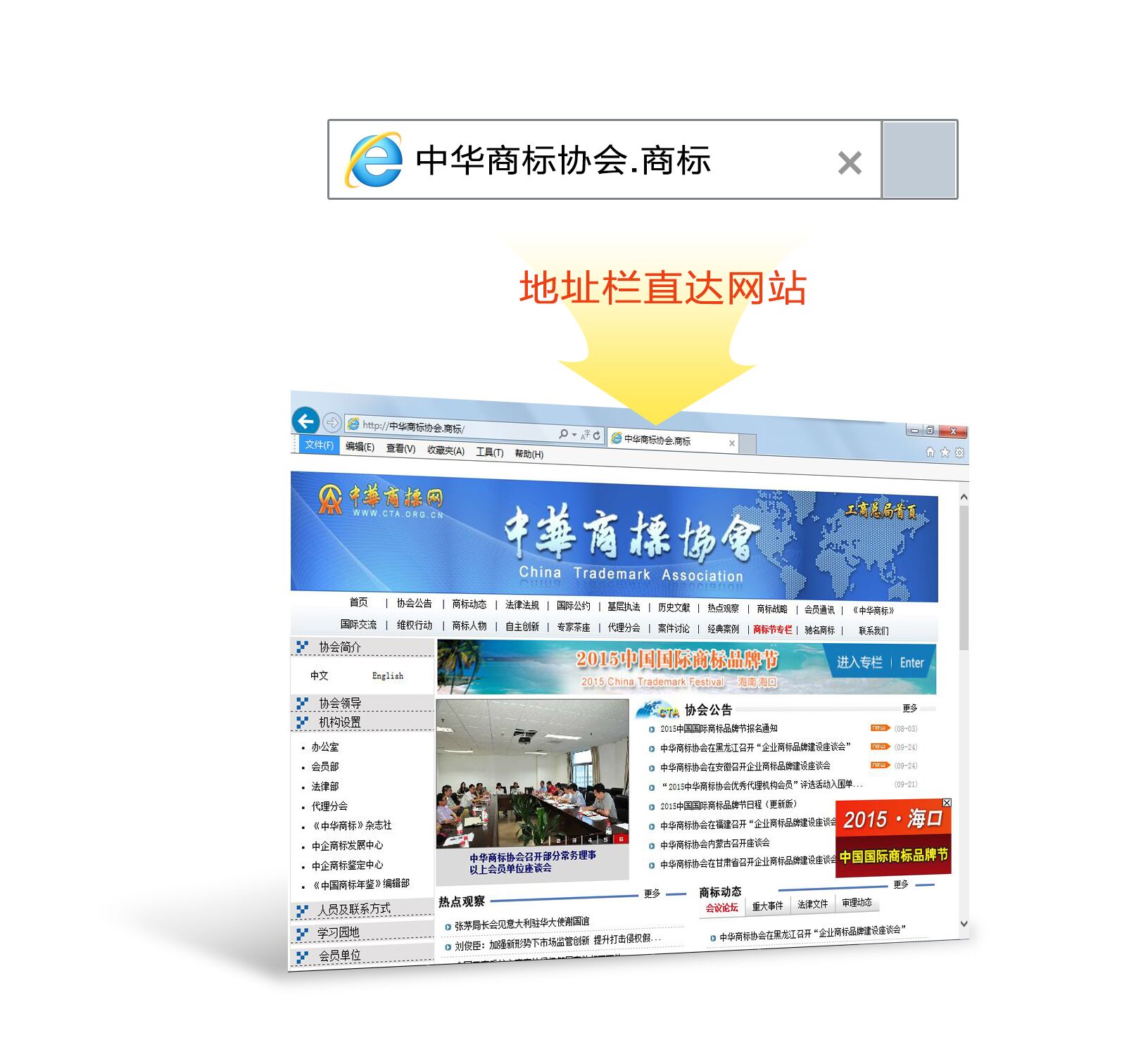 Recently, 2015 China Trademark Festival has officially enabled ".SHANGBIAO" (dot trademark in Chinese) domain name as the entry to the website of this event. Those who are paying attention to or are prepared to participate in the China Trademark Festival to be held in Haikou in October are no longer worried about forgetting or having difficulty remembering the complex English domain name or website. Simply by typing "中国国际商标品牌节.商标" into the address bar of the browser, they can easily visit the official website of 2015 China Trademark Festival to familiarize themselves with the detailed agenda of this China Trademark Festival. In addition, China Trademark Association, the organizer of this event, has already registered and enabled "中华商标协会.商标," "中华商标杂志.商标" and "中华品牌博览会.商标" domains.
Delegated by Internet Corporation for Assigned Names and Numbers (ICANN) , ".SHANGBIAO" is the only international generic top-level domain that uses Chinese "trademark" as suffix on the World Wide Web. The registration rule of ".SHANGBIAO" requires that the registration and use of the domain ".SHANGBIAO" must be full equivalence to the trademark rights of the registrant, which helps ".SHANGBIAO" become a top-level domain exclusive to global trademark right holders. Meanwhile, as a type of innovative online identity of intellectual property of "Internet domain name + trademark with intellectual property," ".SHANGBIAO" has gradually become a new method for traditional trademarks to be promoted and applied online. In January 2015, ".SHANGBIAO" as a top level domain went through administrative permission and approval of the Ministry of Industry and Information Technology. It has officially joined the China Internet domain name management system.
Approved by State Administration of Industry and Commerce, and co-organized by China Trademark Association and the Haikou Municipal People's Government, the 7th China Trademark Festival will be held in Haikou of Hainan Province from October 16 to 19, 2015. The theme of this year's trademark festival is to "implement the trademark strategy, and develop brand economy." After many years of development, China Trademark Festival has nowadays developed into a distinguished gathering for trademark of the highest level, the largest scale and the strongest influence in China, thus attracting much attention from both international and domestic business communities. The annual great gathering of trademark festival is an important platform not only to exhibit the brand cultures of international and domestic trademarks and brand connotations but also to summarize and promote the strategic experience of trademark. It is also a platform both for the international and domestic trademark communities to theorize and study, as well as exchange and cooperate, but also to push forward Chinese enterprises and brands to go global.
According to related persons in charge from China Trademark Association, the trademark festival this year is in various forms and rich in content, mainly composed of China Trademark Annual Meeting, China Brand Expo and a series of thematic events. The China Trademark Annual Meeting includes "2nd China Brand Economy Summit Forum" and a series of sub forums, including International Trademark Law Dynamic Forum, Forum on Typical Trademark Case Review and Analysis, Forum on Trademark Protection in the Era of "Internet Plus", Strategy Forum for Corporate Trademark Brand Internationalization, Trademark Appraisal Oral Proceedings Forum, IP Service Innovation and Standard System Construction Forum, Intellectual Property (Brand and Trademark) Financial Innovation Forum, Internet Economy and Hainan International Tourism Island Featured and Highly-Efficient Agricultural Tourism Products Forum, International Madrid Trademark Registrations Roundtable and so on. China Trademark Association welcomes individuals and enterprises that pay attention to the development of trademark and intellectual property in China to participate in the trademark festival events to be held in Haikou this time.