". SHANGBIAO" Top Level Domain Invited to Participate in IP Service Innovation and Standard System Construction Forum
Source: RegistryDate: 2016-04-05
This Trademark Annual Meeting set up IP Service Innovation and Standard System Construction Forum on the afternoon of October 17. The Forum invited experts from Trademark Office of the State Administration for Industry & Commerce, China Trademark Association, the intellectual property service field and trademark brand enterprises, etc. to lecture in and share "intellectual property innovation". Wu Yangyi, Operating President of China Region of ".SHANGBIAO" (dot trademark in Chinese) Domain Registry, was invited to participate in this meeting, and made a keynote speech.

Wu Yangyi introduced to the attendees that ".SHANGBIAO" is the internationally accepted top level domain name with a clear brand identity on the international Internet certified and authorized by ICANN. Like ® trademark recognition symbol on the global Internet, Chinese ".SHANGBIAO" can convey clearly the intellectual property trademark attribute from visual cognition to others. ".SHANGBIAO" as an international generic top level domain has the unique identification marking function. ".SHANGBIAO" is considered the dual iconic and dual rights Internet brand logo with the trademark and domain name rights.
 

Wu Yangyi also shared ".SHANGBIAO" register rules and use requirements with the attendees and demonstrated a variety of ways to use ".SHANGBIAO" online and offline. He introduced that consumers in China had difficulties in identifying trademarks on the Internet. On the one hand, it is not very convenient for consumers to display ® logo on the Internet, especially on the resource of domain name address. On the other hand, many netizens are insensitive to ® logo and unfamiliar with its meaning. Therefore, the name of trademark with ".SHANGBIAO" logo can fully remind consumers that it is a registered trademark, and they can have access to the official website through the link. After the successful registration of ".SHANGBIAO" relying on the trademark rights, trademark rights holders can use "brand. SHANGBIAO" as the domain name of website and the logo of rights on the Internet, as well as can print it on product packaging, decoration design, specification, business card, exhibition, and advertisement materials of various traditional and network media for individuals, enterprises, and organizations. ".SHANGBIAO" should be remembered by clients and consumers through continual promotion and publicity, to make it the trademark logo of enterprises on the Internet. Hence, through registration and use of ".SHANGBIAO", trademark rights holders are able to expand their offline brand trademark to the global Internet.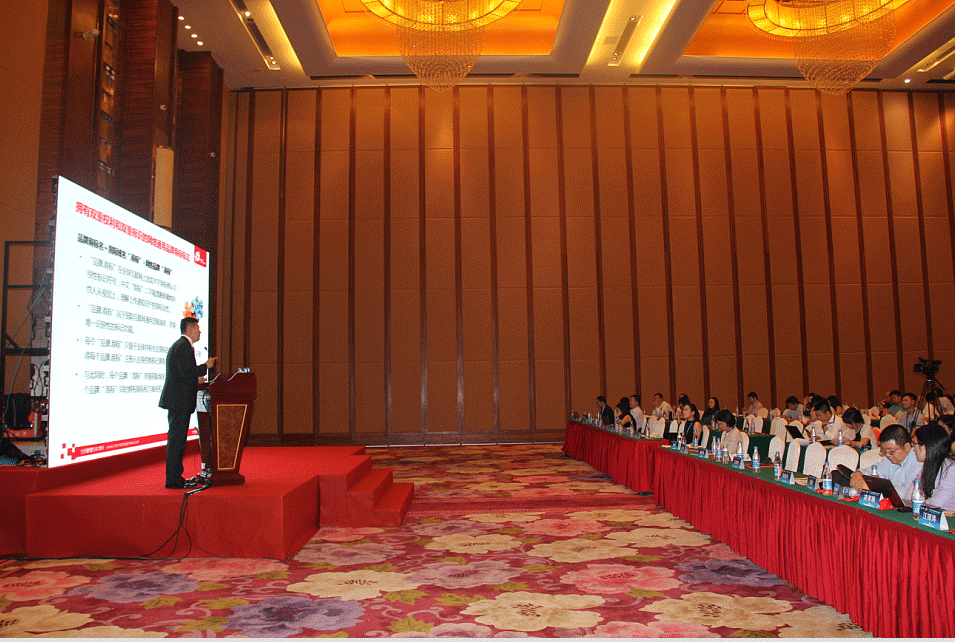 When talking about ".SHANGBIAO" as a kind of innovative IP services to create value for the society, Wu Yangyi noted that during the two sessions this year, the State put forward to "formulate 'Internet Plus' action plan, promote the mobile Internet, cloud computing, big data and Internet of Things, etc. to combine with modern manufacturing, and enhance the healthy development of electronic commerce, industry Internet and Internet finance." At present, China's manufacturing industry is lack of independent innovation capacity. In the course of industrial upgrade from "Made in China" to "Created in China" advocated by the government, to conduct independent R&D and innovation, enterprises will inevitably be involved in the brand creation and operation. Although the quantity of China's trademark registration applications has been topping the world for consecutive years, the quality level of independent brands is not high, and China is far from a brand giant. The emergence of Brand ".SHANGBIAO" could help more brand enterprises to effectively protect and increase the brand awareness and influence of enterprises in the industry upgrading. As an innovative indispensable online trademark sign representing corporate brand reputation in the Internet information age, Brand ".SHANGBIAO" plays a positive role in cooperating with the government authorities to promote Internet governance and online fraud, enhancing network security and safeguarding consumers' rights and interests, and will make due contributions to building a good faith society and creating a credible, healthy and sustainable ecological environment of the Internet.