On September 30, ".SHANGBIAO" (dot trademark in Chinese) Domain Registry held the launch event named "Global Goodwill Network Identity", announcing that it will officially launch a ".SHANGBIAO" international generic top-level domain approved by ICANN.
".SHANGBIAO" is the only international generic top-level domain in the world that uses "SHANGBIAO" (trademark in Chinese) as its suffix, thus providing an Internet addressing entry for global trademark holders to protect, express, popularize and make public their rights on the World Wide Web. ".SHANGBIAO" is in full compliance with various management requirements of ICANN and also in line with various operating standards of international generic top-level domains. It is an authoritative, reliable and safe international generic top-level domain.
Mr. Wu Yangyi, Operating President of China Region
of ".SHANGBIAO" Domain Registry
According to the introduction during the launch event by ".SHANGBIAO" Domain Registry, ".SHANGBIAO" domain name uses Chinese "trademark" as suffix to explicitly show that the domain name is a trademark name like branding a ® sign of the registered trademarks on the address bar of the Internet for the trademarks of the offline brands. ".SHANGBIAO" domain name contains explicit connotations. It has the most basic marking and identification functions of identifying products and source of services on the Internet, thus helping registrants set up a goodwill logo that is widely and uniformly used both online and offline. Therefore, ".SHANGBIAO" domain name has both domain name rights and trademark rights, as an authoritative intellectual property carrier on the Internet.
The registration rule of ".SHANGBIAO" top level domain requires that the registration and use of ".SHANGBIAO" domain names must be fully equivalent to the trademark rights. The Domain Registry sets up a strict review mechanism and work with registrars/agents to verify the authenticity of every trademark rights, and also verify the real names of the registrants of each domain name, which can ensure that every ".SHANGBIAO" domain name can correspond to an offline real trademark rights, so as to set up a corresponding relationship between the registered name of ".SHANGBIAO" domain name and the trademark content of the real offline trademark holder, which can greatly highlight the authenticity and authoritativeness of ".SHANGBIAO" domain name.
For a very long time, a lot of famous brands have encountered the problem of how to prevent infringement and counterfeits on the Internet. ".SHANGBIAO" suffix is very distinctive in connotation and very easy to identify so it is very difficult for netizens to confuse it with other suffixes. Should counterfeiters and infringers wish to use ".SHANGBIAO" as the suffix to their domain names, they shall be required to carry out trademark rights verification and real name verification, which has increased infringement costs for phishing websites and counterfeit websites. Besides, even with infringements, due to the real-name registration system, infringers would have nowhere to hide, which is favorable for enterprises to carry out legal rights protection. Therefore, ".SHANGBIAO" domain name can also help enterprises to obtain on the Internet a reliable logo domain name that is verified by a third party and can highlight the corporate image.
Intellectual property experts pointed out that even if ".SHANGBIAO" domain name strictly limits trademark right holders to register and use trademarks, since offline trademarks are limited by territory, nationality and industry, there are many trademarks that have the same name across the world. Thus, ".SHANGBIAO" domain name shall adopt a first-come, first-served principle, which is an exclusive and rare Internet address resource. Once the registration succeeds, the registrant can immediately own the sole ".SHANGBIAO" domain name on the World Wide Web and shall enjoy the online exclusive right to that ".SHANGBIAO" domain name around the world, which shall be protected by law. For trademark holders, the number of registerable words that are not only in compliance with rules but also the most direct, simplest and easiest to remember is very small. Once the registration is successful, it is equal to the occupancy of commanding height of Internet brand promotion, which can yield twice the result with half the efforts in daily promotion.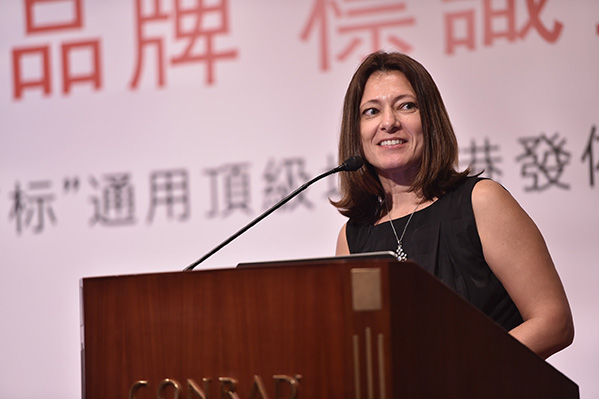 Ms. Gabriela Kennedy, Copartner of Mayer Brown JSM
Industry peers from Hong Kong and Asia paid attention to and supported this launch event. Xie Da'an, Chief Executive Officer of HKIRC – the operating organization of .HK top level domain name in Hong Kong, Mr. Li Qinfeng, Director of Domain Name Department of CONAC affiliated to SCOPSR, Mr. Qiao Jing, Trustee of ICANN GNSO and Founder and CEO of BRANDMA.CO, Mr. Zhong Hong'An, Chief Executive of .ASIA Domain Registry, Mr. Cai Weiping, Secretary General of Asian Domain Name Dispute Resolution Centre, and many persons in charge of domain name registrars all came to the convention to give a speech. Those who failed to attend the event due to schedule conflict all sent video messages to congratulate on the official launch of ".SHANGBIAO" top level domain.
Song Qing, Director of CONAC expressed, "HUYI is a company that enjoys great popularity, is recognized by the industry and has integrity. The approval of ".SHANGBIAO" new generic top level domain by ICANN to HUYI is a proof and the hope of further defending Internet safety via this domain name. We hope that ".SHANGBIAO" domain name can work closely with our organization to push forward the popularity and development of Chinese domain names. On behalf of CONAC, I'd like to congratulate on ".SHANGBIAO" and offer best wishes in its application and promotion in the future".
Mr. Huang Xiongwei, Chairman of HUYI Global, expressed, "We are very much honored that HUYI can become ".SHANGBIAO" Domain Registry, the sole trademark domain Registry in the world, which reflects just in time our corporate philosophy of devoting ourselves to safeguarding intellectual property rights of brand trademarks online and offline. Afterwards, our group will continue to work hard and further strive for new generic top level domains in both traditional Chinese and English for ".SHANGBIAO" so as to meet the needs of customers from different parts of the world and protect the brands of trademark holders in an all-round way."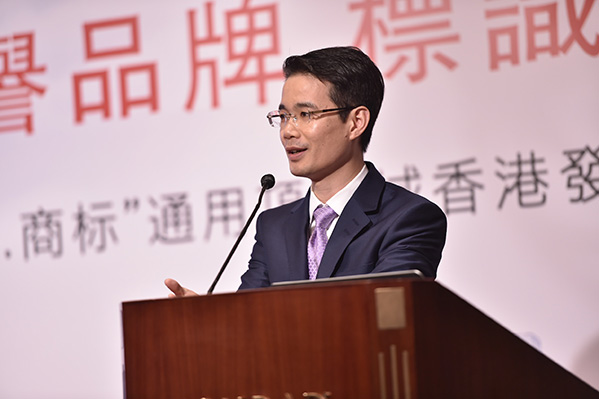 Mr. Cai Weiping, Secretary General
of Asian Domain Name Dispute Resolution Centre
Mr. Cai Weiping, Secretary General of Asian Domain Name Dispute Resolution Centre, pointed out that ".SHANGBIAO" Domain Registry entrusted Asian Domain Name Dispute Resolution Centre to be its dispute resolution organization to set up a sound dispute resolution system. Trademark holders can both file a dispute with regard to malignant registration of ".SHANGBIAO" domain names and file a dispute concerning the registration qualification of registrants, which can be determined by dispute experts appointed by Asian Domain Name Dispute Resolution Centre. However, with regard to the domain names that are not malignantly registered and comply with the registration rules of ".SHANGBIAO" top level domains, trademark holders cannot take back their domain names via domain name dispute resolution. Therefore, it is better for enterprises to register their core trademark brand domain names so as to protect them beforehand.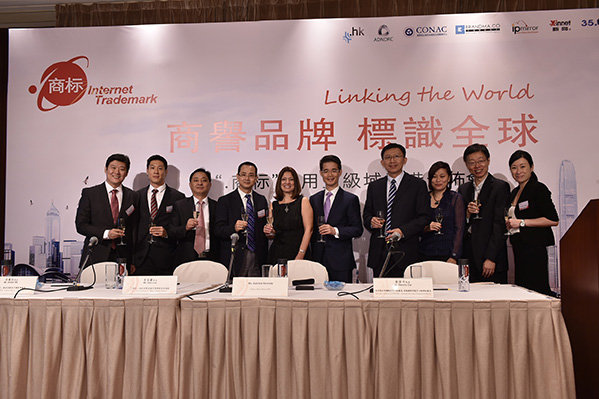 It is learned that during the September sunrise stage provided for TMCH members for registration, ".SHANGBIAO" domain name had already attracted active applications from some global Fortune 500 companies and famous companies from Hong Kong and Mainland China. They were from such industries as finance, banking, food, fast moving consumer goods, fashion consumption, mass media and so on. Thus, it can be seen that trademark holders of different brands have already started to prepare for safeguarding their online brands and seize time to register for their own brands during the priority registration stage, so as to take the lead in making sure the consistency between online and offline brand trademarks. Some insiders exclaimed that the birth of ".SHANGBIAO", the intellectual property protecting new top level domain with the most characteristic of the Internet, is of historical significance. It marks the beginning of network rights protection action for global trademark holders. ".SHANGBIAO" domain name has already become the most important brand resources, element, logo and sign for trademark holder on the Internet.