Awards Ceremony for the 2015 China Trademark Festival and Associated Reception Ceremoniously Held
Source: RegistryDate: 2016-04-05
On the evening of October 16, 2015, Hainan International Convention and Exhibition Center was brightly illuminated and bustling with joy and happiness as the awards ceremony for the 2015 China Trademark Festival (or "the Trademark Festival" for short) and associated reception were ceremoniously held. China Trademark Association (or "CTA" for short) handed out the Trademark Festival's two awards, namely the Award for Outstanding Contributions and the Award for Great Contributions, and the honorary title of 2015 Excellent Trademark Agency at the awards ceremony.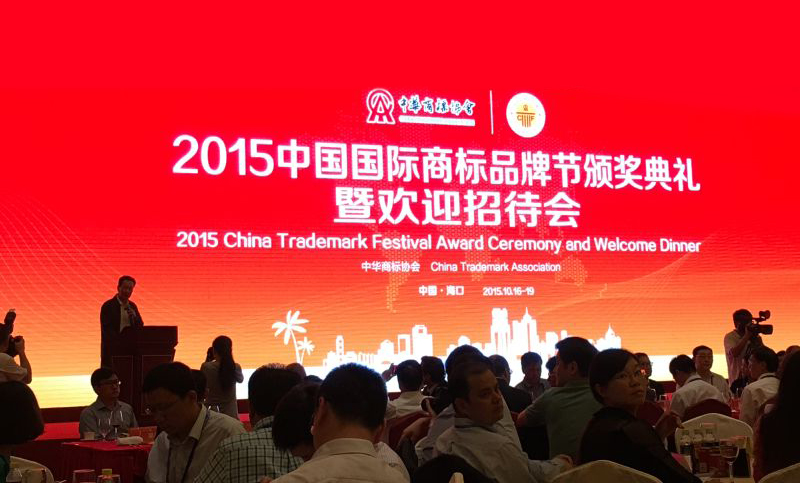 The ceremony was presided over by Wang Peizhang, Secretary General of CTA, and Liu Fan, President of CTA, delivered a speech. Revolving around the theme of "implement the trademark strategy, and develop brand economy," the Trademark Festival organized a host of activities with a view to showcasing the culture of domestic and foreign trademarks and the messages they try to communicate, providing a summary of the experience that had been accumulated in implementing brand strategies over the years, giving people an opportunity to exchange views on theoretical results produced by both the domestic and foreign trademark communities and hold discussions with each other, and communicating to the public the most authoritative, forward-looking, and practical information about government and commercial affairs in the field of trademarks in 2015.
". SHANGBIAO " Domain Registry actively participated in various activities at the Trademark Festival and as one of the festival's technical partners provided necessary help and support for the bringing online of its official website, whose Chinese domain name is " xn--fiq33nnlt0da782x34pus4a0f1b.xn--czr694b". In fact, an Award for Outstanding Contributions was presented to the Domain Registry at the awards ceremony. Wu Yangyi, Operating President of China Region of ".SHANGBIAO" Domain Registry, took the stage on behalf of his organization, and along with representatives from other winners of the same award, received the award from CTA President Liu.
Nearly 1,000 people attended the reception and the awards ceremony, including officials and representatives from many domestic famous businesses, intellectual property agencies, government agencies, and organizations and experts from the international intellectual property community.